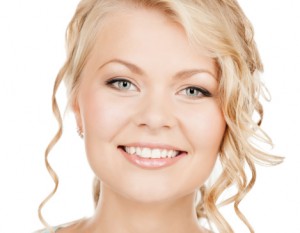 There is no better way to greet a new year than with a smile on your face. Unfortunately, dental problems can make you want to hide your pearly whites instead of showing them off. If that sounds like your situation, then your cosmetic dentist in Bloomfield can help. Popular treatment options include whitening, veneers, crowns, and bridges.
Whiter, Brighter, and More Beautiful
Time has a way of taking the shine away from objects of beauty. This is just as true of the human smile as of anything else. Like a priceless antique, however, it's often possible to erase the evidence of aging from your teeth. The key is prescription teeth whitening. Here's how it works:
A trained dental professional will gently apply whitening gel to your teeth while you relax. If you prefer, your dentist's office will provide you with a take-home kit to use at your convenience.
Once applied, the gel goes to work breaking up and dissolving the pigments on your teeth that cause stains.
After a few minutes of letting the gel do its work, either you or the attending professional will check the results and reapply if needed. Noticeable results can occur in as little as one application.
Sometimes your smile may need a little added help. If that's the case, then you may want to consider veneers.
Like a Face Lift for Your Teeth
Standard whitening treatments are not the best solution in some cases. Examples include teeth that are uneven, widely spaced, discolored due to hereditary factors, or suffering from minor cracks. Porcelain veneers were created to address these patient's needs. Here's how they work:
During your initial appointment, your dentist in Bloomfield will remove a tiny layer of enamel from the front of your teeth. This is a gentle, comfortable process that typically requires no anesthetic.
During the same visit, your dentist will create a series of ultra-precise digital images of your teeth. This information will be used by the lab that creates the actual restoration.
A few days later you will return to your dentist to have the veneers placed. They're made from micro-thin porcelain and created specifically to match the shades and contours of your teeth and gums.
Your dentist will use a special light-activated medical-grade bonding agent to complete the treatment. Once in place, veneers are easy to care for. Your dentist will probably recommend a non-abrasive brand of toothpaste to use going forward.
So far, we've talked primarily about cosmetic treatment options. But some patients require a bit of restorative work to achieve their smile enhancement goals. For these people, crowns and bridges are well worth considering.
 Giving You Back What You've Lost
Our oral health can take a beating over the years, whether due to lifestyle factors or other causes. In some cases the result is damaged or even missing teeth. If this sounds like what you're dealing with, then you may want to think about crowns or bridges. Here's why:
Crowns and bridges are true restorations for distressed or missing teeth. They not only impart cosmetic benefits, they also give you back the practical advantages of good dental health, like the ability to eat a wide variety of nutritious foods comfortably.
Crowns and bridges can last 10 years to a lifetime. They're a great way to keep the benefits of dental care going over the long term.
Only your dentist can prescribe the right solution for your cosmetic and health needs. Make an appointment to see him or her soon. It won't be long before you're showing off your new smile.
About the Author
Dr. David G. Banda has been practicing dentistry for over 30 years. He earned his dental degree from the University of Michigan and continues to hone his skills through ongoing education. You can reach his office online or by calling (248) 647-5434.