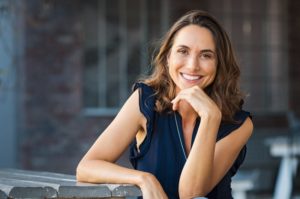 The effects stress can take on your body are immense. Everyone experiences it on different levels, which is why it is important to do things that will help to alleviate some of the stress in your life, such as working out, talking to a counselor, or even smiling! If you don't believe that smiling can actually reduce the stress in your life, let a cosmetic dentist in Bloomfield Hills explain.
The Science Behind Smiling and How it Reduces Stress
Believe it or not, there's a science behind smiling and the role it plays in our overall health. Have you ever heard the term, "Fake it until you make it?" Well, it's true. Smiling can cause your brain to think you're actually happy. This simple act of smiling releases certain hormones called serotonin and dopamine. While dopamine creates feelings of happiness, serotonin reduces stress levels.
Not only do the chemicals released when smiling lessen your stress, but the muscle movement that generates a smile causes your brain to say, "Hey! She's happy because she's smiling!" It doesn't know if you're faking it or being genuine in your actions, but even a fake smile can lower stress levels.
Ways to Achieve a Brighter Smile
Now that you know how turning your frown upside down can make your day better, you might be interested in learning how to take your smile from bland to bright! Here are a few cosmetic solutions that will help you to show off those pearly whites more often.
Teeth Whitening
If you find your teeth look stained or discolored because of all the coffee or soda you drink every day, teeth whitening may just be the solution for you. Your teeth can appear lighter by up to 10 shades in as little as two weeks. Don't worry, your dentist in Bloomfield Hills will provide the right professional teeth whitening treatment for you, so you can start showing off your smile to the world in no time.
Tooth-colored Fillings
Made with composite dental resin, tooth-colored fillings provide you with a solid, natural-looking replacement. These bond to your teeth, so you can avoid metal fillings that can create dark rings at the base of the tooth over time. Don't worry, no one will notice your dental work because of their ability to closely match the shade of your existing teeth.
Porcelain Veneers
If you're embarrassed by chipped, cracked, or crooked teeth, ultra-thin porcelain veneers can give you a uniform smile that will have you smiling from morning to night. Not only are they durable, but they resist stains, too!
Let's face it: smiling is contagious, and when you see someone else smile, you are more than likely going to do the same. Not only does it make you feel good, but it gives you the chance to show off a smile that screams confidence and well, happiness! Talk to your dentist in Bloomfield Hills about ways to brighten your smile.
About the Author
Dr. David Banda earned his Doctor of Dental Surgery from the University of Michigan before completing the Implant Surgical and Prosthetic Program at The Misch Implant Institute in cooperation with The University of Pittsburgh. If you're looking to knock out the stress of your life with a revitalizing smile, Dr. Banda can provide you with a comforting and positive experience, ensuring you leave with a confident smile. Contact us at (248) 647-5434 to learn more about our services.