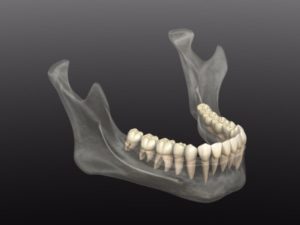 One consequence of tooth loss that often surprises people is bone loss in their jaws. In addition to giving the face an aged, sunken appearance, it can also be an obstacle to getting dental implants. As a tooth replacement option, implants feel very natural and offer unmatched chewing strength, stability, and longevity. But the reason for all of these benefits comes down to one thing: the support an implant gets from the surrounding jawbone. But if it's been a while since you lost your teeth and you're afraid you've lost too much jawbone to be a candidate, don't be discouraged. There are four different procedures a dentist can recommend for bone loss that make it possible to get implants. Learn more below!
Bone Graft
This procedure is fairly straightforward and simply involves adding granules of bone tissue into your jaw to strengthen and fortify it. The bone can be taken from another area of your body but it's usually a type of bone from another source. In addition to "filling in" the part of your jawbone where your natural tooth once was, these bone granules also stimulate your body to naturally make new bone tissue over time.
The procedure is typically done in 45-90 minutes and then 3-6 months are needed before the strength and density of the jawbone is restored.
Sinus Lift
Have you ever had pain in your upper teeth at the same time as a sinus infection or cold? This occurs because the roots and nerves of your upper teeth actually extend into your sinuses. In fact, the upper jaw is naturally a bit "shorter" than the lower jaw, particularly towards the back where the molars and premolars are located, so the roots of the upper teeth simply have nowhere else to go. And, unfortunately, less height in the bone also means there may not be enough room for implants.
In these situations, a sinus lift can be done. Similar to bone grafting, this procedure adds bone from another source to your existing jaw. However, the difference is that the sinuses may need to be "lifted" first to create the space for the additional bone to be added. In most cases, it takes several months after a sinus lift before implants can be placed.
Ridge Expansion
Bone loss in the jaw can either occur vertically (where the bone isn't tall enough) or horizontally (where the bone isn't wide enough). A typical bone graft, described above, restores bone mass vertically.
A ridge expansion is a variationof a bone graft that restores the jaw horizontally. This makes it wide enough to accommodate a dental implant  and give it the support it needs.
Distraction Osteogenesis
Distractionrefers to separating two pieces of bone, while osteogenesisrefers to creating new bone. Distraction osteogenesis is a procedure that slowly separates or stretches two pieces of bone apart and allows new bone to fill in the gap. Although it sounds painful, most people only report mild discomfort and compare it to the way braces felt the first few days after they were put on.
While each of these procedures adds time to your implant treatment plan, the payoff is well worth it. When it's all said and done, you'll have a restored smile that looks and feels very natural and can last a lifetime.
About the Author
David Banda  has decades of experience and has been recognized by the International Congress of Oral Implantologists and the American Academy of Implant Dentistry for his excellence as an implant dentist. When necessary, he can perform advanced surgical techniques that enable his patients to get implants when they've experienced bone loss. If you have any questions about these procedures, you can reach him via his website.