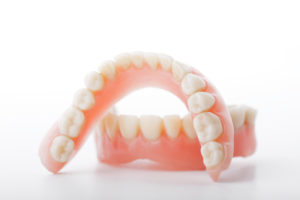 If you recently got dentures in Bloomfield Hills, congratulations on your new smile! You can look forward to more self-confidence, an enhanced appearance and better chewing function than before. But now that you've invested in your oral health by getting new dentures, how should you eat this summer to make sure you don't damage your new appliance? After all, summertime is a prime time for barbecues, vacations and special events where food is front-and-center! Fortunately, there are some easy tips for preparing food to make adjusting to your denture a lot easier. Find out more in this blog!
What Should You Eat For the First Couple of Weeks?
It's natural to experience an adjustment period while you get accustomed to your new dentures, but with a little practice, you'll figure out the best way to comfortably eat a wide variety of foods.
But, for the first couple of weeks, it's helpful to focus on soft or liquid foods. Examples include smoothies, soups, breakfast porridge, scrambled eggs, yogurt and pudding.
This allows your tissues to get used to the way a denture fits and feels, after which you'll be better able to eat solid foods.
How Can You Eat Summertime Foods With a New Denture?
Summertime is a great time for grilling out, but you may be concerned about whether you can still enjoy your favorite foods! In most cases, you can, but it's a good idea to use a few precautions:
Cut your food into small pieces – Chewing something that's been pre-cut is much easier than using your dentures to bite into something large. Corn on the cob is a great example – you can simply cut the kernels from the cob rather than eating from the cob directly.
Consider cooking fruit – In addition to cutting fruit into small pieces, you can also soften it by cooking or grilling it.
Use caution with anything hot – Since dentures make it difficult to determine if something is hot, let everything cool for several minutes before eating it and then test it carefully with your tongue first.
Consume chewy foods with liquid – If you enjoy chewy food like hearty bread, eat it with a little liquid to soften it.
Minimize tough meats – Eating cuts of meat that are particularly tough may be challenging, so go for tender or slow-cooked, shredded meat when possible.
And remember, you can always ask a dentist in Bloomfield Hills for specific tips and guidance.
Dentures are a fantastic way to restore the function and appearance of your smile. With these guidelines, you'll be able to make the transition easily and comfortably!
About the Author
With over 30 years of experience as a general, restorative and cosmetic dentist, Dr. David Banda has provided dentures for countless patients. In addition to making sure his patients get a result that looks and feels great, he always takes the time to educate them on how to maintain their new appliance. If you have any questions, he can be reached via his website or at (248) 647-5434.