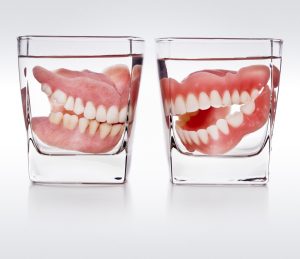 When you lose a tooth, your smile isn't the only thing that takes a hit. The rest of your body and your confidence also suffer. Chewing can become difficult and cause you to indulge in easier things to eat, usually unhealthy foods. The gaps in your smile suck in your face, causing your facial muscles to sag and make you age quickly. Don't let missing teeth stop you from living a healthy, confident, happy life. Cranbrook Dental Care can help you if you've lost one or multiple teeth by providing you custom, well-fitting dentures in Bloomfield Hills.
What are dentures?
Dr. Banda can help replace the missing components of your smile with dentures. Yeah, you may have seen them floating in a cup next to your grandparent's bed when you were younger, but dentures aren't just for the elderly. This is not necessarily false, but dentures can help so many other patients as well. This restorative option is a great way to replace several teeth or even a whole row. Let's take a look at the different types of dentures your dentist in Bloomfield Hills can offer you.
Full (complete) dentures are a full set of prosthetic teeth attached to a gum-colored base used to restore your ability to speak, eat, and smile confidently. These dentures are ideal for major tooth loss.
Partial dentures are designed to fill the gaps in your smile throughout your mouth, fitting like a piece of a puzzle. There are different options for how your partial dentures can be placed to be removable or attached permanently.
Implant supported dentures can provide a secure fit that does not require adhesives or clasps to keep your prosthetic in place. They will be attached to dental implants to eliminate issues with slippage or falling out, providing a great permanent solution.
How can dentures help me?
Our team can provide additional support for facial muscles, improve the patient's overall comfort, and provide dramatic aesthetic improvements when you choose to get dentures. High-quality dental materials create seamless replacement teeth. In fact, today's advancements in technology make creating dentures that mimic your natural teeth easier than ever! Here are the benefits that you will experience when you use dentures.
Versatility: There are several types of dentures available, including full and partial sets. Complete (full) dentures are ideal for patients that have lost the majority of their teeth. Partial sets are for patients that need to fill gaps or spacing within their smile.
Function: Our dentures are designed to be comfortable, beautiful, and fully functional. We can restore your ability to eat and speak clearly.
Aesthetics: Our dentures are crafted from high-quality dental materials to perfectly match your natural teeth.
If you have lost any teeth, you may be a good candidate for dentures. Our office offers immediate dentures for patients that absolutely need them. You could leave our office with a set of temporary or false teeth to wear until our dental lab finishes your custom, permanent dentures. Contact our office today and meet with one of our dental professionals. We are excited to help you revitalize your smile!