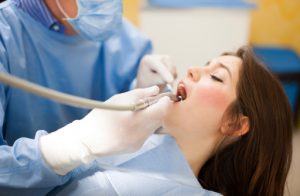 Sweaty palms, a pounding heartbeat, a tight throat–do these happen to you before going to the dentist? Drs. Banda, Cheslin, Kane and Hanes, dentists in Bloomfield Hills, offer ways to calm dental phobia, along with sedation dentistry options to relax you so you get the dental care you deserve.
Worry Turns to Fear
Some people think dental phobia is nonsense, but actually, patients may have good reasons for being afraid of dental exams, cleanings and other procedures. For instance, Dr. Banda and his professional colleagues see patients who have avoided the dentist for years, allowing teeth and gums to deteriorate to the point that their overall health suffers.
Reasons for this include:
Bad experiences with a dentist (pain, judgemental attitudes, botched procedures)
Inability to sit still because of physical limitations, such as back pain
Claustrophobia
Embarrassment over the condition of teeth
Low pain threshold
Sensitive gag reflex
Feelings of helplessness
Fear of drills or other dental equipment
Unfortunately, dental phobia leads to decay, periodontal disease, and even tooth loss. Plus, the oral bacteria contained in accumulated plaque and tartar are connected to systemic health issues such as diabetes, cardiovascular disease, dementia and more.
Alleviating the Fear
Beating dental phobia starts with facing it. Your dentists at Cranbrook Dental Care recommend these helpful strategies:
Choose a compassionate dental team. Judgemental attitudes and poor listening only cause more anxiety.
Tell your dentist you feel nervous. It's OK. He or she has seen worried patients before.
Have a friend or loved take you to your appointment to provide moral support.
Ask your dentist to take breaks during your procedures. Allow time to stretch and think about something else.
Employ relaxation techniques. Listen to music on your mobile device. Pray. Breath deeply. These strategies release endorphins which lift your mood.
Use sedation dentistry options in Bloomfield Hills. Banda, Cheslin, Kane and Hane offers nitrous oxide (laughing gas), oral conscious sedation (tranquilizers such as Valium) and IV sedation (administered through a needle in the arm) to relax patients and ensure pain-free procedures.
Keep your appointments because postponing them makes them scarier.
Avoid caffeine to reduce the jitters.
An Additional Word about Sedation Dentistry
Sedation really helps people conquer their fears. The dentists at Cranbrook Dental Care discuss sedation options with their patients who are nervous and/or have complex and lengthy procedures coming up. The doctors carefully consider medical history, current medications and what sedation truly will work best for the individual. Each patient is fully monitored (vital signs, level of consciousness) during their treatments, and the doctors are certified in Advanced Cardiac LIfe Support (ACLS) for maximum safety.
You Can Do It
The compassionate dentists in Bloomfield Hills want to help you. They have assisted many other individuals in conquering dental anxiety and receiving the care they need. Take the first step, and contact Cranbrook Dental Care for a sedation dentistry consultation today.