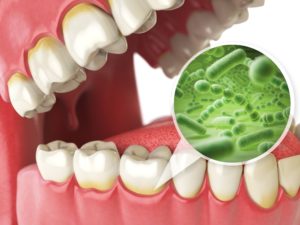 Did you know there's another threat lingering in your mouth other than tooth decay? Although it's preventable, the Centers for Disease Control and Prevention estimates at least 50% of adults have a form of gum disease. When it's caught early, it's easily treatable without causing any long-term damage. Unfortunately, many people don't recognize the early warning signs of the infection or they don't fully understand the complications it can cause if it's not treated. If you don't act quickly, gum disease won't just harm your smile. It can also cause several health complications.

What is Gum Disease?
Gum (periodontal) disease is a preventable infection that results from ineffective brushing and flossing habits. When your home oral hygiene routine doesn't remove plaque from your teeth, it calcifies and turns to tartar. This harbors harmful bacteria that infect the gingival tissue. Without quick intervention, it will cause pockets to form in the gum tissue, trapping additional bacteria.
Over time, the bacteria will destroy the supporting structures of your teeth, leading to tooth loss. Unfortunately, the complications don't end there. The bacteria can also enter your bloodstream. As it circulates throughout your body, it can cause a variety of severe health complications.
What are the Health Dangers of Gum Disease?
Believe it or not, there are several links between gum disease and many health issues, such as:
Alzheimer's Disease: The infection causes an increased buildup of beta-amyloid in the brain, which is a leading indicator of the neurological condition. In one study, researchers found the bacteria responsible for gum disease in the brains of Alzheimer's patients.
Heart Disease: Gum diseases can cause inflammation in the body, which can damage the tissues and organs over time, including the heart. This can increase your risk of cardiovascular disease, heart attack, and stroke.
Cancer: A 2008 study found a significant link between gum disease and pancreatic cancer in men.
Respiratory Distress: The infection can cause inflammation in the lungs, narrowing airflow to cause breathing complications. It can also increase the risk of respiratory infections and lung cancer.
Diabetic Complications: Diabetics have an increased risk of gum diseases because of their body's compromised immune system, which can also make the infection more difficult to treat. In addition, research shows the infection can make it harder to control diabetes.
How Can I Prevent Gum Disease?
You can promote a healthy mouth and body by taking the time each day to brush and floss your teeth. Don't forget to visit your dentist every 6 months for a cleaning and checkup. If you notice any signs of the infection in between your routine appointments, like red or swollen gums, contact your dentist right away.
About Cranbrook Dental Care
Our team at Cranbrook Dental Care is dedicated to providing high-quality services to help our patients achieve their oral health goals. We provide the services you need to keep your teeth and gums healthy while also delivering personalized solutions to restore your smile, such as periodontal therapy. If you suspect you have the infection, don't wait until it's too late. Contact our office today to schedule an appointment.