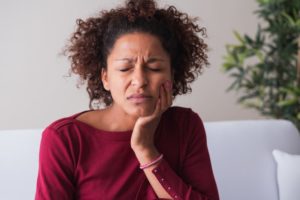 Gum disease is more common than you may think; in fact, this bacterial infection impacts one out of every two adults in America. It has also been the main reason for tooth loss in adults. Recent research has uncovered that this oral disease can actually cause various diseases and illnesses found throughout the body when it's left untreated. Read on to learn how poor oral hygiene can impact your overall wellbeing.
How Can You Get Gum Disease?
One of the main causes of gum disease is poor oral hygiene. Your body is host to an incalculable number of bacteria, both good and bad. The same goes for your mouth—when you don't remove plaque and food debris regularly, it can cause an infestation of harmful bacteria. You aid your body's natural immune system when you brush and floss each morning and night. Good oral hygiene helps keep your mouth from being overrun by acid producing and disease-causing bacteria.
What's The Link Between Gum Disease And Your Overall Health?
Recent research has established connections between gum disease and various diseases and health conditions found throughout the body. When harmful oral bacteria aren't regularly removed from your mouth, they release harmful toxins that can get in your bloodstream. They travel from your mouth to areas such as your respiratory system and your heart.
This bacterial infection can cause gum recession, bleeding, swelling, irritation, and even tooth loss. Some health conditions that have been connected to your oral health include:
Heart disease
Respiratory infections
Pregnancy complications
Alzheimer's disease
Diabetes
Each time you visit your dentist for your routine checkup and cleaning, if you're experiencing any unusual symptoms, be sure to let them know. Taking certain medications and having illnesses that weaken your immune system can increase your risk of developing gum disease, so also inform your dentist about those. This way, they can properly diagnose and treat any oral health problems you may be especially at risk of experiencing.
How Can You Reduce Your Risk Of Developing Gum Disease?
Protecting your mouth against gum disease and fortifying your overall wellbeing isn't as hard as it seems. The ADA recommends brushing twice each day and flossing to maintain healthy teeth and gums. Another great way to remove bacteria and food debris from hard-to-reach places is to use an ADA-approved antibacterial mouthwash.
Even if you're diligent about your oral health routine, it's still vital for you to visit your dentist for routine professional cleanings and checkups. When gum disease is caught in its early stages, your dentist can treat and even reverse the symptoms. But when it's left to progress, it becomes incurable. Which is why it's so important for your professional to intervene as soon as possible and keep an eye out for any symptoms.
With gum disease being one of the most common oral health problems in the United States, it's even more important to ward it off and protect yourself from the consequences. Being a healthy person means more than just exercising and eating a nutritious diet—it also means protecting yourself from gum disease.
About the Practice
At Cranbrook Dental Care, we offer the services of four highly trained dentists who have attended some of the most prestigious institutions. With their combined knowledge and experience spanning a variety of specialized services, they're able to provide their patients with comprehensive care. They focus on giving each patient individualized, reliable, and trustworthy treatment. For questions or to schedule a routine checkup and cleaning, visit our website or contact 248-647-5434.