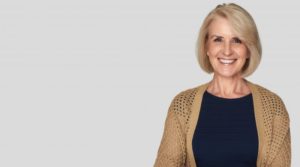 It's typically recommended to replace dentures in Bloomfield Hills every five to eight years. So if you've had yours for a while, then you may have noticed some shifting, gum irritation or other signs of wear. Maybe you should consider taking a new direction. Continue reading to learn how you can replace your missing teeth with a method that's considered the "gold standard!"
Dental Implants for More Security
While traditional dentures are effective for replacing missing teeth, they have some limitations. Because they rest atop your gums and rely on dental adhesive and suction to hold them in place, they can be subject to slippage as your jaw shifts over time.
Dental implants, which are surgically inserted beneath your gum line to mimic the function of the missing teeth roots serve as an excellent remedy. Over a period of three to eight months, the fixtures fuse with the underlying bone through a process called osseointegration to form a lasting and strong foundation.
One of the challenges of receiving traditional implants, though, is that they require adequate jawbone density for them to seat properly. This can pose a problem if you have diminished bone mass. In times past, a bone grafting procedure would have been the only way to qualify for implant placement. Thankfully, there is now a far more convenient option.
All-On-4 Implants for a Rebuilt Smile
The All-On-4 dental implant procedure involves four to six titanium implants being strategically placed and angled in the denser parts of your jawbone. Thus, you can have your teeth replaced in a less invasive yet effective manner. Even better, your dentist can custom design a set of brand-new dentures that will permanently attach to the implants.
Here are some of the benefits of receiving All-On-4 implant-retained dentures:
Security – No longer will you have to worry about dentures slipping or irritating your gums.
Natural Appearance – With implants anchored beneath your gum line and high-grade porcelain fixtures attached to them, your smile will look like you were born with it.
Proprioception – Many patients who wear dentures struggle with losing the natural sensation in their mouth, which can make it a challenge to speak and taste food. With implant-retained dentures, you won't have to worry about these issues.
Jawbone Support – By attaching at the jawbone level, implants help to stimulate bone cell production to support your facial structure and prevent any premature wrinkling.
Longevity – With proper care, implants can last 30 years to a lifetime, which means you'll get the maximum return on your investment.
Are You a Good Candidate for Implant-Retained Dentures?
The ultimate way of determining which form of tooth replacement will work best for you is to pay your dentist in Bloomfield Hills a visit. He or she will conduct a careful examination to make sure your oral health is up to par and assess your jawbone density. After a plan of action is created, you can then move forward with having your missing teeth replaced and experiencing a more joyful life!
About the Author
Dr. David G. Banda earned his dental degree from the University of Michigan. He would later go on to complete the Implant Surgical and Prosthetic Program at The Misch Implant Institute. Additionally, Dr. Banda maintains professional affiliation with the International Congress of Oral Implantologists, the American Academy of Osseointegration and the American Academy of Implant Dentistry. He replaces missing teeth with dental implants at Cranbrook Dental Care, and he can be reached for more information through his website.