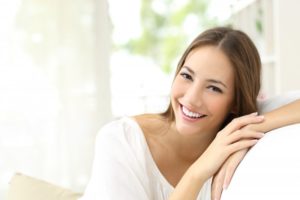 According to a 2015 survey conducted by the American Academy of Cosmetic Dentistry (AACD), crowns, bridgework, bonding, veneers, and whitening are the top practices requested by dental patients. If you're considering a future cosmetic dental treatment, it's important to understand the different issues a complete smile makeover can solve!
Furthermore, choosing the right combination of treatments can make your smile makeover even more transformative, boosting your self-esteem and giving you more confidence in your life. As cosmetic dentists experience more demand, more options become available for patients to peruse.
What Issues Can A Smile Makeover Solve?
Cosmetic dentistry can solve several different issues you may find in your smile. If you believe your teeth or gums to have the following traits, you could be a candidate for cosmetic treatment.
Discoloration in your teeth
Cracks, chips, or any other signs of erosion
Gaps in between your teeth
A "gummy" smile or an uneven gumline
Crooked teeth
It's important to understand the specific issue you have early as this will make choosing the right combination of treatments easier. Keep in mind that any previous dental issues such as gum disease, bruxism, and untreated decay will need to be addressed before cosmetic procedures can be conducted. For example, severe teeth misalignment may be better solved by orthodontic procedures, so discuss this with your doctor during your consultation.
What Are the Various Cosmetic Treatment Available?
As you undergo your cosmetic consultation, your dentist will help you decide which treatments will give you the best smile makeover possible. For discoloration of your teeth, they may recommend teeth whitening to bring shine back to your enamel. This can also be combined with veneers which go on top of your pre-existing teeth for a more long-term improvement to your smile.
If your teeth have been grinded down or become jagged over time, the dentist can perform artistic bonding and contouring to permanently reshape your teeth and create a more even smile. If you are looking to restore the whiteness in specific teeth, fillings and crowns can produce a more natural look for your smile as well.
Getting the Most from Your Insurance Plan
Typically, cosmetic procedures are not covered under dental insurance. However, if you decide to pursue a treatment that falls under restorative purposes, you could be eligible for partial coverage. Say you decide to get a crown to enhance the appearance of your tooth. Since crowns are also designed to restore functionality and strengthen your tooth's outer structure, your insurance could cover the cost of a new crown.
Your dentist may also provide special offers depending on how you pay for you cosmetic treatment. By creating a package of treatments, you may reduce the overall cost of your smile makeover. Ask your doctor during the consultation if options are available.
Let your smile shine bright like a diamond! Contact your cosmetic dentist in Bloomfield today to learn more.
About the Author
Dr. David George Banda earned his Doctor of Dental Surgery degree from the University of Michigan in 1986 and continues his education in many dental disciplines. As a cosmetic dentist, his practice offers several of the latest techniques designed to boost your smile. These include veneers, clear braces, teeth whitening treatments, and smile makeovers. To learn more about his practice, visit his website or contact him at (248) 647-5434.