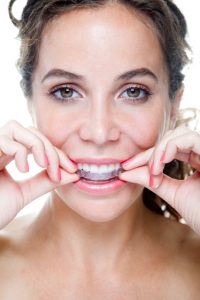 Living with crooked or misaligned teeth not only affects your smile, it also takes a toll on your confidence. You may feel embarrassed about talking or smiling in front of other people, which affects your personal and professional relationships. If you've considered straightening your teeth, but the thought of wearing bulky metal braces holds you back, Invisalign may be the solution you've been looking for! At Cranbrook Dental Care, Dr. David Banda, Dr. Steve Hane, Dr. William Cheslin, and Dr. Lisa Kane are certified Invisalign providers and we're here to discuss the advantages of Invisalign in Bloomfield Hills.
What is Invisalign?
Using clear plastic aligners instead of metal brackets to align your teeth, Invisalign produces amazing results without anyone noticing that you're straightening your teeth. You'll wear your trays 20-22 hours per day, and change them every two weeks. Most Invisalign cases can be completed in 12-18 months and with our 3D technology you'll be able to see what your newly aligned smile will look like even before you start treatment!
What are the Benefits of Invisalign?
Besides straightening your teeth with discretion, Invisalign offer patients a number of other benefits.
A comfortable, snug fit that doesn't interfere with your daily activities
Aligners are removable so there are no restrictions on your diet
Your home care routine doesn't have to change since aligners are easily removed
A straighter smile promotes optimum oral health because teeth are easier to keep clean
Am I a Candidate for Invisalign?
Our doctors can determine if Invisalign is right for you with a thorough examination, x-rays, and photos of your teeth. While Invisalign works well for most compliant adults and teens, it can't correct cases that require major alignment of the bite.
If Invisalign is right for you, our doctors will create a customized treatment plan from which your aligners will be fabricated. You'll receive your first set of trays, check in with us periodically to ensure treatment is progressing as planned, and be well on your way to a straighter smile in no time!
At Cranbrook Dental Care, we offer a full range of services designed to meet all of our patients' dental needs in one stop. If Invisalign isn't in your future, our doctors can discuss other options for restoring your smile.
Don't live with crooked teeth and compromised oral health any longer! Contact our office today to learn more about your options for straightening your smile.