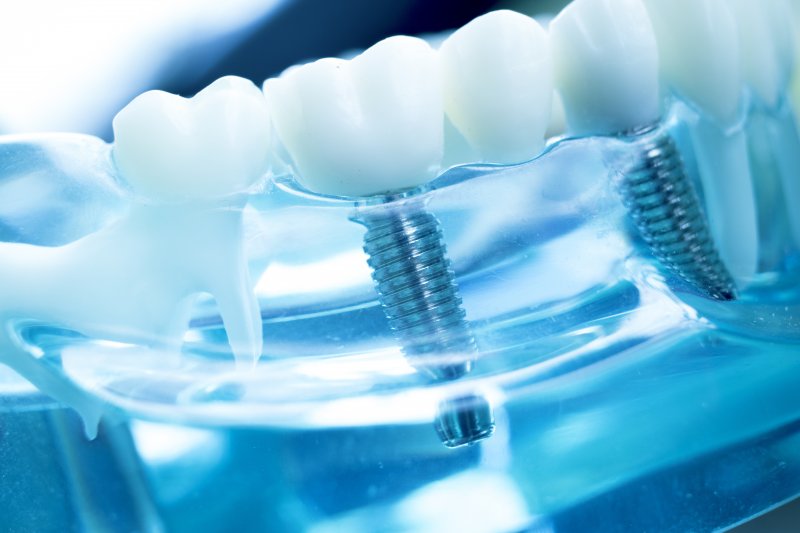 Are you finally making the switch from dentures to dental implants? Many people try traditional dentures for just long enough to decide that they aren't for them. Fortunately, with modern dental technology, there are other options for people who are missing most of or all of their teeth. With so many benefits of dental implants, it's no wonder so many people feel the need to transition from dentures in Bloomfield Hills. Continue reading to learn more about the benefits of switching to implants and the care that your new restoration will require.
What Are the Benefits of Dental Implants Over Dentures?
Here are some of the many reasons that patients are continuing to make the switch from dentures to dental implants:
No Food Restrictions: Even though you will still want to be careful when eating hard foods, you will pretty much be able to enjoy all of your favorite snacks again, even If you were unable to with traditional dentures. This is because implants restore up to 90% of your chewing power.
Easy to Care For: No more adhesives or soaking your false teeth overnight. You care for them just like you would with your natural teeth.
No Slipping and Sliding: Ill-fitting dentures can be a pain, but your dental implants won't be! This is because they are anchored into the jawbone and don't budge.
Prevents Bone Loss: When you are missing teeth, your jawbone will begin to deteriorate because it isn't getting the stimulation it needs to stay strong. Dental implants are the only tooth replacement option that preserve the integrity of the jawbone.
No Trapped Food: Food can get trapped around your dentures, but this isn't a problem with implants. Just like regular teeth, food debris can be dislodged with a good flossing technique.
How Are Implants Cared For?
Caring for your dental implants is much different than looking after your dentures. Here are a few things that you should do to keep your implants in good shape:
Brush Twice a Day: Look for special toothbrushes that are made for people who have dental implants. This makes it easier for you to clean hard-to-reach places.
Floss Every Day: You should be flossing every day in order to avoid tooth loss and gum damage.
Don't Smoke of Drink Heavily: Both of these unhealthy activities interfere with the healing process and can weaken your bone structure.
Visit Your Dentist: Seeing your dentist for regular checkups is crucial for maintaining optimal oral health, especially if you have dental implants.
Watch Your Diet: Even though you won't have any food restrictions with dental implants, it is still wise to be careful with items that are especially hard or sticky.
Switching from dentures to dental implants is lifechanging and will bring you all sorts of benefits. You will be loving your fully functional smile in no time!
About the Author
Dr. David G. Banda earned his Doctor of Dental Surgery from the University of Michigan and has completed the Implant Surgical and Prosthetic Program from The Misch Implant Institute in cooperation with The University of Pittsburgh. He has received various Fellowships, Certificates, and Diplomate awards from the International Congress of Oral Implantologists, the American Academy of Implant Dentistry, and the American Academy of Osseointegration. For more information on dental implants or to schedule a consultation, visit his website or call (248) 647-5434.