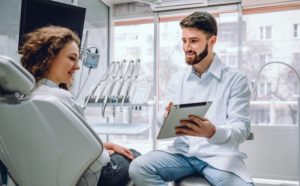 When it comes to dental care, the old adage, "An ounce of prevention is worth a pound of cure" couldn't be more accurate. That's why dentists try to spot warning signs of oral health problems as early as possible before they cause pain and become expensive to treat. One of these problems that often goes unnoticed for weeks or even months is tooth decay. The sooner your dentist catches signs of cavities, the less likely you are to need restorative treatments like fillings or dental crowns. That's why, if you're looking for a dentist, you should consider one with a cavity detection system like DIAGNOdent. Here's how it can help you!
Makes Preventing Cavities Much Easier
Early cavity detection systems use technology that is incredibly advanced, yet its function is fairly simple. DIAGNOdent, for example, uses a laser diode to examine teeth. First, your dentist aims a beam of light at one of your healthy teeth. Then, the laser is pointed at your other teeth for comparison. If the system detects a different wavelength of light from the healthy tooth, it alerts your dentist that the area is weakened by decay.
Very small cavities or cavities that were hidden in the pits and grooves of teeth have been almost impossible to detect in their early stages. Thanks to early cavity detection technology, your dentist can help you stop decay in its tracks and reduce your overall dental bills in the long run.
Safe and Effective for All Sorts of Patients
Patients who are at a higher risk for cavities can obviously benefit from this technology, but they're not the only ones. Chronic dry mouth and other health conditions can increase the risk of decay, making cavity detection systems ideal.
In addition, the smaller, pen-shaped device used in the DIAGNOdent system makes it much easier for children to have their teeth examined. Some kids have trouble with bitewing X-rays, while early cavity detection systems are more comfortable. Not to mention, DIAGNOdent emits zero radiation!
Keeps You More Involved in Your Dental Health
Modern dentistry has increasingly emphasized improving the experience of the patient during routine exams. Essentially, the more involved you are during your checkup, the more trust you'll build with your dentist. Early cavity detection systems are just one way to be more involved in your dental health and stay proactive about your smile.
Choosing a dentist with an early cavity detection system can mean the difference between catching decay and having to get a filling. That's why you should make sure the dentist you're looking for has the right technology for the job!
About the Practice
At Cranbrook Dental Care, our dentists pride themselves on creating strong relationships with our patients. One way they do that is by utilizing the DIAGNOdent system to detect cavities early on and saving patients from needing restorative treatments. If you're interested in keeping your smile healthier for years to come, visit Cranbrook Dental Care's website or call their office at 248-647-5434.