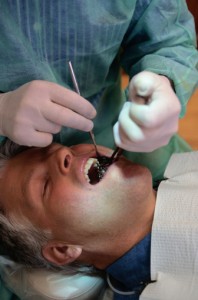 Dental implants replace missing teeth with durable materials and outstanding aesthetics. Find out about these dental prosthetics and who is a candidate for the dental implant procedure.
Gone are the days when dental patients put up with missing teeth or replacements such as ill-fitting dentures or fixed bridgework that requires radical reshaping of supporting teeth. In recent years, the dental implant has become the gold standard in tooth replacement.

What is a dental implant?
Comprised of a titanium screw, abutment or post and a pristine porcelain crown, dental implants are an artificial tooth and root system. Custom–made and surgically placed right into the patient's jaw where the natural teeth originally resided, implants fill in smile gaps and provide normalized speaking, chewing, biting and aesthetics for the patient.
Almost miraculously, bone adheres exceptionally well to the titanium implant screw, thus creating a strong and durable bond with the implant through a process known as osseointegration. In fact, implants prevent the bone and gum recession that occurs after tooth extraction.
After a period of healing–4 months for the lower jaw and 6 months for the upper, implants can be fitted with a post that will receive the porcelain crowns. New teeth are adjusted for bite and polished to a sparkling shine.
Who can be a candidate for dental implants?
The short answer is that many people are. According to the American Academy of Implant Dentistry, more than 3 million dental implants were placed in United States alone in 2006. Overall, this advanced procedure boasts a success rate of approximately 98 percent.
In his years of practice, David G. Banda DDS of Cranbrook Dental Care has placed numerous dental implants. The best candidates for Dr. Banda's implants have good dental and overall health, including teeth free of cavities and gums free of periodontitis. These conditions, however, may be successfully treated so that implants may be placed.
Additionally, jaw bone must be adequately strong and wide to accept the metal screw. Again, Dr. Banda has ways to augment bone with donor tissue and other treatments.
Both young and old make great candidates for the implant procedure although children cannot have the devices until their jaw bone growth is basically stabilized. Implants may even be used to anchor full dentures or bridgework. An added bonus is that people who already practice good brushing and flossing and get routine exams and cleanings can care for implants successfully and have them last for decades.
Why not consult the best implant dentist in Bloomfield Hills, Michigan?
Dr. David G. Banda and his associate, Dr. Steven Hane, have joined their advanced skills together to provide state of the art dental implants to patients in Bloomfield Hills. Find out how dental implants could benefit your smile and your health. Call Cranbrook Dental Care for an appointment: (248) 647-5434.