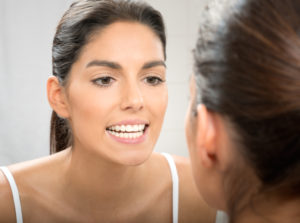 2017 may be the year of teeth whitening. Google "DIY teeth whitening," check out YouTube videos, or just take a walk down the oral hygiene aisle at your local pharmacy. The wide range of teeth whitening options available is astounding. From whitening toothpaste to gel and light acceleration kits for home use, there's something for everyone. However, the bulk of the store bought and DIY teeth whitening products are minimally effective, but one of the most popular new methods – charcoal whitening – may actually work.

Charcoal VS Other Whitening Products
Traditional teeth whitening products use hydrogen or carbamide peroxide, silica, and other chemicals to remove tooth stains through oxygenation. Other forms of oxygenation include food rot, rust, and skin damage. While the chemical oxygenation of teeth is an effective way to remove stains, it can have some adverse effects including dental sensitivity and gum tissue damage. Conversely, charcoal actually absorbs toxins. This product has been used in hospitals to treat poisoning because charcoal safely absorbs these toxins. Rather than adding chemicals to your system to brighten your teeth, charcoal whitening absorbs chemicals and staining agents, leaving patients with a brighter smile.
How to Use Black Charcoal for Teeth Whitening
Before you start crushing your barbeque charcoals for teeth whitening, take a breath. Not all charcoal is the same. You need to find an activated charcoal. These products are typically sold in capsules you can find in a local pharmacy as many people take activated charcoal to reduce their response to allergens. Once you have the powdered, activated charcoal that is safe for human consumption, start by wetting a toothbrush. You will likely want to have separate toothbrushes for charcoal whitening and regular tooth brushing. Next, you can either pour the charcoal directly onto the wet toothbrush bristles or apply a small amount of toothpaste and dip the brush in charcoal. Brush teeth with charcoal powder for three to five minutes making sure to spread the charcoal over every tooth service. For easy cleanup, spit into a cup every so often, and empty the cup into the toilet rather than the sink. When you're done brushing, rinse your mouth and toothbrush with water and brush the teeth and tongue to remove residue. Repeat as necessary until you achieve the desired results.
Ask Your Cranbrook Dental Care Team for Guidance
Before you begin any teeth whitening plan, you should talk to your dentist. Skilled cosmetic dentists offer a wide range of professional teeth whitening options that are sure to be both safe and effective. Additionally, a cosmetic dentist can help you find the most effective DIY and store bought teeth whitening options for you. At Cranbrook Dental Care in Bloomfield Hills, we provide a variety of cosmetic dentistry services to help our patients achieve bright white smiles. Before you start brushing with charcoal, call our office to schedule a cosmetic dentistry consultation. We'll evaluate your smile and help you find the right teeth whitening option.