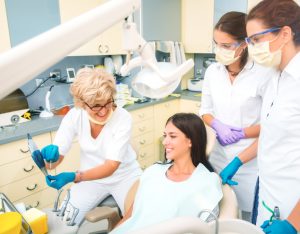 Your oral hygiene is vital to preventing serious dental problems. If you are not brushing your teeth twice a day, flossing daily, and visiting your dentist twice a year, there is a good chance you have gum disease. According to the Centers for Disease Control and Prevention, it is estimated over half of adults in the United States have a form of gum disease, also known as periodontal disease. As a dentist in Bloomfield, we can easily help you prevent the development of gum disease while also providing early detection for quick intervention.

What is Gum Disease?
Gum disease is an infection in the gum tissue, most often caused by poor oral hygiene. Your dental habits are vital to removing plaque from the teeth to prevent the development of tarter above and below the gum line. If proper oral hygiene is not maintained, plaque and tarter will begin to accumulate. Bacteria thrive in the buildups, eventually causing the gums to become infected and irritated.
While the early stage of gum disease, gingivitis, is easily treatable without producing any long-term complications, too many fail to recognize the signs of the infection. As a result, the infection continues to grow, eventually causing significant complications for your oral health. If the infection reaches the later stages of development, you will likely begin losing your teeth. Not to mention, gum disease is directly linked to causing significant overall health problems, including cardiovascular disease.
How is Gum Disease Treated?
The best way to treat gum disease in Bloomfield is to prevent it from occurring in the first place. You need to keep plaque and tarter buildup to an absolute minimum with home oral hygiene. In addition, you need to visit your dentist twice a year for regular cleanings and checkups. If you happen to notice any early warning signs of the infection, such as swollen or bleeding gums, you need to see your dentist right away. We will quickly treat the infection to prevent it from becoming worse.
Treatment for gum disease often includes root planing and scaling. This is a special process used to thoroughly clean under the gum line and the roots of the teeth to reduce bacteria. You may be prescribed antibiotics, and we will give you additional hygiene recommendations to help treat the infection.
In some cases, the infection may have already caused significant damage, such as gum recession. If this has occurred, you may require gum surgery. Thankfully, most cases of gum disease can be treated with a good cleaning and making simple changes at home.
Do I Have Gum Disease?
If you have noticed bleeding gums, gum soreness, or frequent bad breath, you may have gum disease. If you suspect you may have the infection, you need to schedule an appointment with your dentist right away. We will help to treat the infection while offering preventive measures to lessen the chance it progresses in severity.
We will help you protect your smile and overall health with periodontal therapy. Contact our office to schedule your appointment.