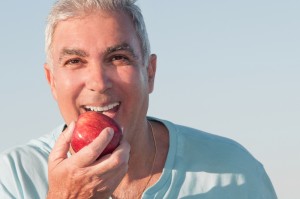 Do you know what the difference between traditional dentures and implant-supported dentures is? The answer is simple—natural functionality. Traditional restorative services do a good job of filling in the gaps in a patient's smile, but they don't do anything about a patient's missing tooth roots.
Dental implants, on the other hand, do. They're structured like natural teeth with a crown on top and a titanium implant underneath. The implant acts like a prosthetic root. Because titanium is a biocompatible metal, the post will eventually bond with the bone in your jaw to create a strong, natural foundation.
There are two phases to a dental implant procedure. In the first phase, one or more implant posts will be surgically placed in your jaw. Then, after your implant has had time to bond with your jaw, your new crown, bridge, partial denture, or full denture can be attached. The entire procedure can take a few months to complete, but the result is a smile that will look and function like a natural smile.
Find out if you're a candidate for dental implants with a consultation at Cranbrook Dental Care. During your visit, Dr. Banda will assess your needs and recommend a personalized treatment plan. Call us today for an appointment. We serve patients from Bloomfield Hills, Royal Oak, Clarkston, Troy, and Birmingham.