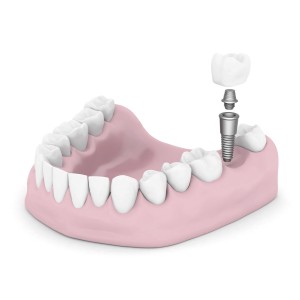 Being insecure about your smile is never an easy thing to deal with. When you are not confident about your smile, everything else seems to fall to the waist side. You may be hesitant to laugh with your friends, smile, or be around other people. Though it may feel as though there is no relief to your smile insecurities, our very own Dr. David G. Banda is able to restore your smile to perfection with dental implants.
Dental implants are a wonderful option for those who want to permanently change their smile. The process begins with a consultation with Dr. Banda. There, he will be able to fully assess your smile, discuss your long term goals, as well as address any concerns or questions you may have. If you are considered a candidate for dental implants, Dr. Banda will surgically install a screw-like implant into your jaw bone. This provides stability for your new teeth, as well as prevents bone loss. After the implant, the abutment is added, which is essentially a support system for the implant as well as the crown to be placed on top. The final step to dental implanting is placing your beautiful crowns on top of the abutment. At the end of the procedure, you are left with nothing but a beautiful, flawless smile!
One of the many advantages to dental implants is the fact they look completely natural. Like many people, you may not want it to be obvious you had work done, or you do not want your smile to look fake. Dental implants look like your natural teeth, sure you are sure to look as put together as possible. Another advantage is the fact that dental implants restore you self-esteem. Because you may have lost some confidence while being insecure about your smile, this procedure is a wonderful way to give back the worth you have missed!
If you feel as though Dr. Banda is able to help you revolutionize your smile with dental implants, contact our office and make an appointment today! Don't wait to change your smile and your life!
Contact Cranbrook Dental Care today to reserve your appointment with Dr. Banda. We will be able to take care of all of your implant placement, sedation dentistry, and oral surgery needs. We proudly serve patients from Clarkston, Troy, Royal Oak, Birmingham, and the surrounding Detroit areas!