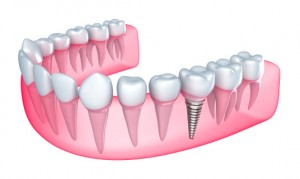 The wonderful thing about dental implants is that they are able to give you the smile you have always wanted. Dr. Banda prides himself in being able to transform the smiles and lives of his patients with dental implants. Though there are very obvious benefits to dental implants, there are more benefits than meets the eye!
One of the great benefits about dental implants is that they are able to offer you better oral health. When you have a smile that is not full, it puts you more at risk for gum disease, a misaligned bite, bone loss, tooth loss, TMJ, and other complications. Also, when you have teeth missing from your smile, it could cause the other teeth in your mouth to shift in order to make up for the extra space. This shift is due to the missing tooth root, as the roots are used to anchor our teeth in place. When that is missing, it puts other teeth in your smile at risk for deterioration.
Also, unlike dentures and partials, dental implants are a permanent option to replacing your teeth. There is no fear of slippage or dealing with adhesives or clasps, allowing you to fully enjoy your new smile with confidence. Dental implants are able to improve your facial aesthetic, being able to support your cheeks and lips, making you look more youthful.  There are many benefits to dental implants, and if you have teeth missing from your smile, we invite you to discover the benefits for yourself. Contact our office to schedule a consultation with Dr. Banda to find out how dental implants are able to help restore your self-confidence and overall wellbeing.
Schedule a consultation to discuss dental implants with Dr. Banda by calling our Bloomfield Hills practice. Our office serves patients throughout this area, including Troy, Birmingham, Clarkston, and the surrounding communities. For more about dental implants, visit our patient resource library.